Once again, the awesome Lauren from Wonderless Reviews is hosting a Halloween Readathon during the whole month of October. The best thing about it? There are no rules! She has set some challenges and you decide on which to try your hand at. I'll attempt just a few because I know I won't be able to complete them all this year, especially since I'm already running late.
If you are looking for some inspiration for your own Halloween reads, you might want to check these out: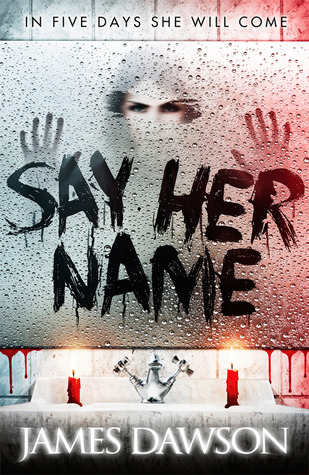 After Bobbie, an skeptical girl attending a creepy boarding school, is dared to call Bloody Mary five times in front of a mirror alongside her best friend and a local boy, strange things start to happen. A message in the mirror says she has five days and the countdown has already begun.
This YA take on the Bloody Mary myth seems like the perfect way to start off this readathon. I had actually chosen this book for last year's challenge, but never got the chance to read it, so it fits both categories.
A take on Japanese ghost stories, this novel features a dead girl hunting murderers and a boy with a secret killing to get out. I'd be lying if I say films like The Grudge and The Ring don't creep me out, so I'm excited to see how this novel twists the tale and finds new ways of scaring me. I don't usually read at night anymore because I tend to do it on my way to and from work, but I'll give it a chance this month.
A thriller set in Vitoria, Spain that mixes archeology, local history, and a serial killer. Since I'm living in Spain, I've been meaning to read more books set here and this one just called to me! Sadly, I don't think this book has been translated into English.
---
I don't think I'll be reading seven books for the readathon because I'll probably won't even finish two. I know myself too well. I don't have much time to read and I'm too slow, but maybe next year? Still, these are some of my other options in case I do have the time or I can't find the books above:
Rosmary's Baby: a classic film and book that I know nothing about. I've heard the title so much, but managed not to spoil myself. I'm really curious about it!
Anya's Ghost: A girl finds a ghost friend at the bottom of a well. This is not exactly a scary read, but but it still fits the supernatural themes.
I used to love scary movies, but now I have a hard time watching them. Nevertheless, the last horror/thriller I saw has Get Out and I loved it. The social commentary and creepy ambience were perfectly intertwined. For this challenge, I'm thinking of watching The Babadook or Don't Breathe, but I can't make any promises!
---
What are some of your favorite books or films for this time of the year?
GuardarGuardar