Welcome to Diversity Spotlight Thursday, a feature created by Aimal @Bookshelves and Paperbacks to shed light on diverse literature. I'll be sharing three different books: one that I've read, one that I want to read, and an upcoming release. Let's check them out!
---
 – A BOOK I HAVE READ –
Tipping the Velvet by Sarah Waters | LGBTQIA+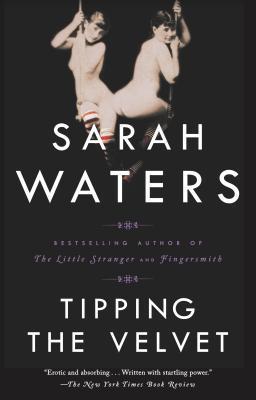 Nan King, an oyster girl, is captivated by the music hall phenomenon Kitty Butler, a male impersonator extraordinaire treading the boards in Canterbury. Through a friend at the box office, Nan manages to visit all her shows and finally meet her heroine. Soon after, she becomes Kitty's dresser and the two head for the bright lights of Leicester Square where they begin a glittering career as music-hall stars in an all-singing and dancing double act. At the same time, behind closed doors, they admit their attraction to each other and their affair begins.
---
Don't trust the blurb. At least, not entirely. That's only a small part of the story. This historical fiction focuses on Nancy, a girl in Victorian times trying to find herself, exploring her sexuality, and encountering sucess and failure along the way.
---
– A BOOK ON MY TBR –
In Order to Live: A North Korean Girl's Journey to Freedom by Yeonmi Park | POC
Human rights activist Park, who fled North Korea with her mother in 2007 at age 13 and eventually made it to South Korea two years later after a harrowing ordeal, recognized that in order to be "completely free," she had to confront the truth of her past. It is an ugly, shameful story of being sold with her mother into slave marriages by Chinese brokers, and although she at first tried to hide the painful details when blending into South Korean society, she realized how her survival story could inspire others. Moreover, her sister had also escaped earlier and had vanished into China for years, prompting the author to go public with her story in the hope of finding her sister.

---
I think we're all curious to know what happens behind the closed doors of North Korea. At least there's a mix between wanting to know and wanting to shut down the thoughts of all the horrors that they must endure there. I think this book is extremely important for that reason. We cannot shy away from other people's tragedies. Something must be done and Yeonmi Park's tale is hopefully a step towards that.
---
– AN UPCOMING RELEASE –
Masquerade (Micah Grey #3) by Laura Lam | LGBTQIA+
BLURB FROM THE FIRST BOOK OF THE TRILOGY, PANTOMIME (So I don't spoil anything!):

In a land of lost wonders, the past is stirring once more . . .

Gene's life resembles a debutante's dream. Yet she hides a secret that would see her shunned by the nobility. Gene is both male and female. Then she displays unwanted magical abilities – last seen in mysterious beings from an almost-forgotten age. Matters escalate further when her parents plan a devastating betrayal, so she flees home, dressed as a boy.
The city beyond contains glowing glass relics from a lost civilization. They call to her, but she wants freedom not mysteries. So, reinvented as 'Micah Grey', Gene joins the circus. As an aerialist, she discovers the joy of flight – but the circus has a dark side. She's also plagued by visions foretelling danger. A storm is howling in from the past, but will she heed its roar?
---
This trilogy features a bisexual genderfluid main character and a pretty cool fantasy world. The third book is coming out in March 2017! You can read the first chapters of Pantomime (the first book of the series) on Wattpad:
https://embed.wattpad.com/story/91172286
---
Are you interested in reading any of these books or have you read them already? Let me know what you thought of them 😉