Another week, another Top Ten Tuesday, a meme created by The Broke and the Bookish. The topic for the week is a Halloween related freebie, so I'm going with creepy reads. This includes short stories, novels, non-fiction and poems that are either scary or disturbing for many different reasons. Let's check them out!
1. NIGHT FILM BY MARISHA PESSL

| PSYCHOLOGICAL THRILLER
A reporter delves into an investigation of an enigmatic filmmaker and his family after her daughter commits suicide. This book isn't scary per se, but it plays with your mind and the atmosphere is definitely unsettling. It's one of my favorite reads of the year.
[My review here]
2. PEOPLE WHO EAT DARKNESS: LOVE, GRIEF AND A JOURNEY INTO JAPAN'S SHADOWS BY RICHARD LLOYD PARRY 

| NON-FICTION 
This is a true crime story of a girl who moved to Japan and disappeared, showing the dangers of being a foreigner working as a hostess and how a family copes with such a tragedy. It's sad and unsettling, as any true crime book, but a story worth reading.
 3. BIRD BOX BY JOSH MARLERMAN 

| HORROR NOVEL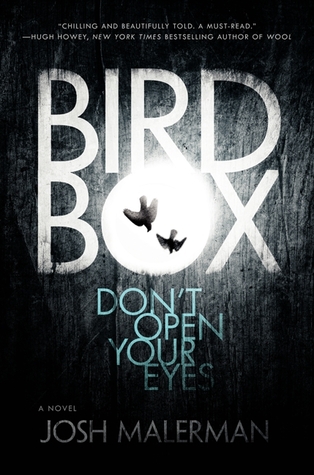 Imagine a world where you can't open your eyes because there is something out there that's making people kill others and then kill themselves. A great book with a scary concept!
4. THE YELLOW WALLPAPER BY CHARLOTTE PERKINS GILMAN 

| SHORT STORY
A woman is confined in a country side bedroom to rest, which is covered in a yellow wallpaper that starts upsetting her more and more with each passing moment. One of my favorite short stories, if not my ultimate favorite. It's a masterpiece on mental health and very creepy.
5. REASONS SHE GOES TO THE WOODS BY DEBORAH KAY DAVIES 

| FICTION (VIGNETTES)
Through short vignettes we come to know about Pearl, a violent girl obsessed with her father. I have no idea how to describe or even rate this book, but if you want a disturbing read with an unlikeable character, here you go.
6. THE RAVEN BY EDGAR ALLAN POE
| POEM
A man is haunted by a raven perched on a bust above his bedroom door that won't leave. I could have chosen anything by Edgar Allan Poe actually, but I thought it would be nice to add a poem in the list.
 You can read it here.
7. UNDER THE SKIN BY MICHEL FABER
| SCIENCE FICTION HORROR
A woman in the streets of Scotland takes on hitchhikers. She must find ones that aren't going to be missed…
This is a book that is better to go without knowing too much. It has a slow pace, but I was mesmerized by the writing and the themes it raised.
8. THE LOTTERY BY SHIRLEY JACKSON 
| SHORT STORY
The townspeople reunite to celebrate their yearly lottery. An always relevant classic, this short story is about society and traditions.
You can read it here.
9. YOU BY CAROLINE KEPNES 
| PSYCHOLOGICAL THRILLER
A guy called Joe begins stalking and obsessing over a woman that enters the bookstore where he works. It's creepy because you tend to side with Joe, even if you don't want to, and because how terryfing it could be to become someone's prey like that.
 [My review here]
10. FEMININE ENDINGS BY NEIL GAIMAN
| SHORT STORY
A love letter from a man to a woman who works as a living statue, it's reminiscent of You by Caroline Kepnes. Neil Gaiman is a brilliant writer and narrator, so please do yourself a favor and watch his performance of this amazing short story.
Are you reading anything creepy for Halloween? Share your favorite scary reads with me!