Lauren @Wonderless Reviews is hosting a Halloween Readathon this October and I'm really excited to join in! The best thing about it is how chill it is. She gave out some challenges and you can try and accomplish as many as you'd like, but it really depends on what you want to do. I'll be joining in on Twitter using the hashtag #HalloweenWR to show my progress or simply make any comment related to my Halloween reads. If you want to check which books I chose, keep on reading.
I'm using Lauren's banners because they are the cutest and I want to give the post the proper Halloween vibe it deserves.
Why? Well, ever since I saw the cover, I thought it would be perfect for Halloween! I keep hearing about it, so this would be the perfect time to pick it up.
---
Cas Lowood has inherited an unusual vocation: He kills the dead.
So did his father before him, until he was gruesomely murdered by a ghost he sought to kill. Now, armed with his father's mysterious and deadly athame, Cas travels the country with his kitchen-witch mother and their spirit-sniffing cat. They follow legends and local lore, destroy the murderous dead, and keep pesky things like the future and friends at bay.
Searching for a ghost the locals call Anna Dressed in Blood, Cas expects the usual: track, hunt, kill. What he finds instead is a girl entangled in curses and rage, a ghost like he's never faced before. She still wears the dress she wore on the day of her brutal murder in 1958: once white, now stained red and dripping with blood. Since her death, Anna has killed any and every person who has dared to step into the deserted Victorian she used to call home.
Yet she spares Cas's life.
Why? A fairy race captures and hunts down teens in their own twisted version of the Hunger Games. It deals with disability, which I'm glad to see represented.
---
The Hunger Games meets horror in this unforgettable thriller where only one thing is certain . . . you will be Called.
Thousands of years ago, humans banished the Sidhe fairy race to another dimension. The beautiful, terrible Sidhe have stewed in a land of horrors ever since, plotting their revenge . . . and now their day has come.
Fourteen-year-old Nessa lives in a world where every teen will be "Called." It could come in the middle of the day, it could come deep in the night. But one instant she will be here, and the next she will wake up naked and alone in the Sidhe land. She will be spotted, hunted down, and brutally murdered. And she will be sent back in pieces by the Sidhe to the human world . . . unless she joins the rare few who survive for twenty-four hours and escape unscathed.
Nessa trains with her friends at an academy designed to maximize her chances at survival. But as the days tick by and her classmates go one by one, the threat of her Call lurks ever closer . . . and with it the threat of an even more insidious danger closer to home.
Why? After seeing so much suffering surrounding her, a girl takes matters into her own hands. I think this will be twisted tale with complex characters, a perfect thriller!
---
In the Bone there is a house.
In the house there is a girl.
In the girl there is a darkness.
Margo is not like other girls. She lives in a derelict neighborhood called the Bone, in a cursed house, with her cursed mother, who hasn't spoken to her in over two years. She lives her days feeling invisible. It's not until she develops a friendship with her wheelchair-bound neighbor, Judah Grant, that things begin to change. When a neighborhood girl, seven-year-old Neveah Anthony, goes missing, Judah sets out to help Margo uncover what happened to her.
What Margo finds changes her, and with a new perspective on life, she's determined to find evil and punish it–targeting rapists and child molesters, one by one.
But hunting evil is dangerous, and Margo risks losing everything, including her own soul.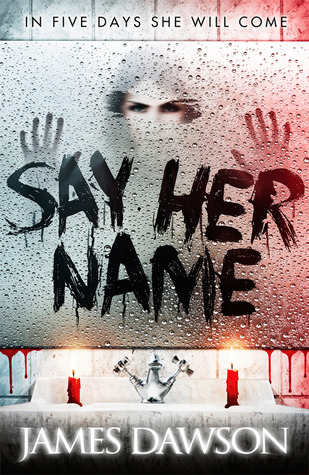 Why? A message in a mirror. A supernatural entity threatening the characters. It sounds thrilling and creepy, perfect to read at night.
---
Roberta 'Bobbie' Rowe is not the kind of person who believes in ghosts. A Halloween dare at her ridiculously spooky boarding school is no big deal, especially when her best friend Naya and cute local boy Caine agree to join in too. They are ordered to summon the legendary ghost of 'Bloody Mary': say her name five times in front of a candlelit mirror, and she shall appear… But, surprise surprise, nothing happens. Or does it?
Next morning, Bobbie finds a message on her bathroom mirror… five days… but what does it mean? And who left it there? Things get increasingly weird and more terrifying for Bobbie and Naya, until it becomes all too clear that Bloody Mary was indeed called from the afterlife that night, and she is definitely not a friendly ghost. Bobbie, Naya and Caine are now in a race against time before their five days are up and Mary comes for them, as she has come for countless others before… A truly spine-chilling yet witty horror from shortlisted 'Queen of Teen' author James Dawson.
Why? I'm going with trick! This book has been on my TBR for quite some time now and I always put it off for no good reason. It's about bloggers and zombies, which is more fitting for me now 🙂
---
The year was 2014. We had cured cancer. We had beaten the common cold. But in doing so we created something new, something terrible that no one could stop.
The infection spread, virus blocks taking over bodies and minds with one, unstoppable command: FEED. Now, twenty years after the Rising, bloggers Georgia and Shaun Mason are on the trail of the biggest story of their lives—the dark conspiracy behind the infected.
The truth will get out, even if it kills them.
Why? A novella with a world without women in which strange mushrooms start growing in the cementeries. It sounds disturbing and incredibly intriguing.
---
Somewhere away from the cities and towns, a group of men and boys gather around the fire each night to listen to their stories in the Valley of the Rocks. For when the women are all gone the rest of your life is all there is for everyone. The men are waiting to pass into the night.
The story shall be told to preserve the past. History has gone back to its aural roots and the power of words is strong. Meet Nate, the storyteller, and the new secrets he brings back from the woods. William rules the group with youth and strength, but how long can that last? And what about Uncle Ted, who spends so much time out in the woods?
Hear the tales, watch a myth be formed. For what can man hope to achieve in a world without women? When the past is only grief how long should you hold on to it? What secrets can the forest offer to change it all?
Discover the Beauty.
Are you joining any Halloween readathons or do you have a creepy TBR planned for October?