Another week, another Top Ten Tuesday, a meme created by The Broke and the Bookish. The topic was "Ten Books That Have Been On Your Shelf (Or TBR) From Before You Started Blogging That You STILL Haven't Read Yet", but since I just started 3 months ago I decided to take it a little further and go for books I've had on my TBR since the beginning of time. Some of this books have been on my TBR for more than 10 years, others for just a year or so. Compiling this list was sort of terrible. I felt ashamed of leaving these poor books on my TBR for so long, but the time has not been right for them! Let's check them out.
1.THE LORD OF THE RINGS TRILOGY BY J.R.R. TOLKIEN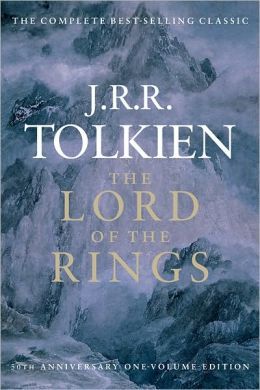 Ever since the films came out, I've been meaning to read this trilogy, but then I heard the movies were better than the books and it put me off. I've heard how tedious Tolkien's descriptions can be and I'm a little apprehensive to read them because of that.
2. JANE EYRE BY CHARLOTTE BRONTË
It's very strange, but the first time I ever heard about this book was in a Friends episode in which Rachel and Phoebe attend a literature class. Rachel doesn't read the book and Phoebe tricks her into believing it's about a cyborg, which I thought was hilarious (her's a clip). Later on, I learned it was one of the most well-known classics in literature and I've wanted to read it ever since.
3. POISON STUDY BY MARIA V. SNYDER
This is the first one in a trilogy. I've not had it on my TBR for as long as the others, but it is one of the first ones I added on Goodreads. I keep hearing great things about it and I hope I can get to it before this year is over!
4. SCOTT PILGRIM & THE INFINITE SADNESS BY BRYAN LEE O'MALLEY
I became obsessed with Scott Pilgrim when the film came out. It was silly, funny and it translated so well from graphic novel to movie that I wanted to read the whole series. Sadly, I only got the first two installments and never got to buy the rest. Whenever I went to a bookstore, the third installment was always out of stock. As time went by, my excitement for it dwindled and I stopped looking for it in bookstores. I still want to finish reading it though, so hopefully I'll find it one day
5. LITTLE WOMEN BY LOUISA MAY ALCOTT
I owned this book when I was a kid and I even started reading it, but one day it disappeared from my house with a bunch of other old books. My mom gave them away without telling me and I was heartbroken. I never bought another copy and somehow I keep putting it off. Weirdly, this book also reminds me of Friends because one episode spoiled something major from the book that I never forgot!
6. DIVERGENT BY VERONICA ROTH
This is almost embarrassing because even most of the movie adaptations have come out. I haven't even watched those! I keep telling myself I will read the books and then watch the films, but the thing is… I'm not the biggest fan of dystopia anymore. I used to love reading that genre, but the patterns and tropes got too repetitive for me. I still want to read this series because many people have recommended it to me and I would love to discuss it with them.
7. ROMEO AND JULIET BY WILLIAM SHAKESPEARE
The classic of classics! I'm 100% ashamed to admit that I haven't read any of Shakespeare's work. Sure, I know his work and I've seen adaptations, I've read excerpts and quotes, but I haven't read any of his plays. I even bought a copy of Much Ado About Nothing almost 4 years ago and it is still sitting unread on my shelf.
8. THE COUNT OF MONTE CRISTO BY ALEXANDRE DUMAS
This has been on my TBR for 14 years. It sounds ridiculous, but I was able to check the exact number of years by looking at the release date of the film. I was 10 years old when it came out and I remember watching it time and time again. Then I realized it was a book and wanted to read it, but I saw it was 1400+ pages long and it scared me. It still intimidates me, which is why I haven't picked it up yet.
Do you have any of these on your TBR or have you already read them? Share some of the books that have been on your shelf or TBR for the longest time!