Welcome to my first post for Diversity Spotlight Thursday, a new feature created by Aimal @Bookshelves and Paperbacks to shed light on diverse literature. Each week we'll be sharing three different books: one that I've read, one that I want to read, and an upcoming release. Check that link if you want more info!
I'm always trying to diversify my reading, so this is a great opportunity for me to discover new books and to share them with you! I think it's a really important feature and hopefully I'll be able to participate once in a while, alternating it with Book Traveling Thursdays.
 – A BOOK I HAVE READ –
Binti by Nnedi Okorafor | POC, setting (South Africa)
Her name is Binti, and she is the first of the Himba people ever to be offered a place at Oomza University, the finest institution of higher learning in the galaxy. But to accept the offer will mean giving up her place in her family to travel between the stars among strangers who do not share her ways or respect her customs.
Knowledge comes at a cost, one that Binti is willing to pay, but her journey will not be easy. The world she seeks to enter has long warred with the Meduse, an alien race that has become the stuff of nightmares. Oomza University has wronged the Meduse, and Binti's stellar travel will bring her within their deadly reach.
If Binti hopes to survive the legacy of a war not of her making, she will need both the gifts of her people and the wisdom enshrined within the University, itself – but first she has to make it there, alive.
---
This is a novella featuring a Himba woman as a main character and it deals with the theme of cultural respect. Even though I knew a bit about the Himba people before reading this, it inspired me to learn more and that kind of opportunity is always eye opening. The writing is great and you can read it really fast. Because it was so short, I was left wanting for more and thankfully my wish was granted. Binti has a second part called Home coming in January, 2017.
– A BOOK ON MY TBR –
The Ghost Bride by Yangze Choo | POC, setting (Malaysia)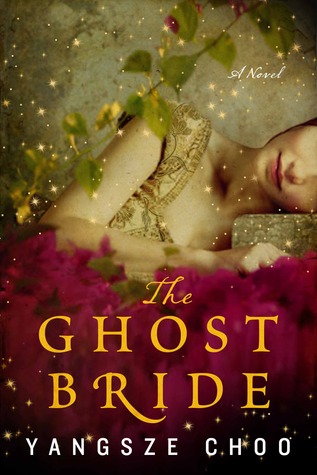 "One evening, my father asked me if I would like to become a ghost bride…"
Though ruled by British overlords, the Chinese of colonial Malaya still cling to ancient customs. And in the sleepy port town of Malacca, ghosts and superstitions abound.
Li Lan, the daughter of a genteel but bankrupt family, has few prospects. But fate intervenes when she receives an unusual proposal from the wealthy and powerful Lim family. They want her to become a ghost bride for the family's only son, who recently died under mysterious circumstances. Rarely practiced, a traditional ghost marriage is used to placate a restless spirit. Such a union would guarantee Li Lan a home for the rest of her days, but at a terrible price.
After an ominous visit to the opulent Lim mansion, Li Lan finds herself haunted not only by her ghostly would-be suitor, but also by her desire for the Lim's handsome new heir, Tian Bai. Night after night, she is drawn into the shadowy parallel world of the Chinese afterlife, with its ghost cities, paper funeral offerings, vengeful spirits and monstrous bureaucracy—including the mysterious Er Lang, a charming but unpredictable guardian spirit. Li Lan must uncover the Lim family's darkest secrets—and the truth about her own family—before she is trapped in this ghostly world forever.
---
Historical fiction and paranormal? Yes, please! It is set in Malaysia, but the main characters are Chinese, so I'd love to learn a bit of history, cultural differences and traditions from it. Although the ghost marriage takes a fantasy turn in the story, I'm still hoping to learn more about that because it sounds fascinating!
– AN UPCOMING RELEASE –
The Inexplicable Logic of my Life by Benjamin Alire Sáenz | POC, LGBTQIA+
From the multi-award-winning author of Aristotle and Dante Discover the Secrets of the Universe comes a gorgeous new story about love, identity, and families lost and found.
Sal used to know his place with his adoptive gay father, their loving Mexican-American family, and his best friend, Samantha. But it's senior year, and suddenly Sal is throwing punches, questioning everything, and realizing he no longer knows himself. If Sal's not who he thought he was, who is he? This humor-infused, warmly humane look at universal questions of belonging is a triumph.
---
This book is to be released on March 7th, 2017. If you read Aristotle and Dante Discover the Secrets of the Universe, you probably know what to expect from this book. It seems to have similar themes, such as identity and family. It features a Mexican-American main character whose father is gay. I have never read a book featuring a gay parent, or at least I can seem to remember it at the moment, so I would love to see how that theme is explored.
Any book caught your eye? Share some of your favority books featuring diversity in the comments! And if you liked this feature and would like to join in, definitely check Aimal's blog.